Cecil Victor Irvine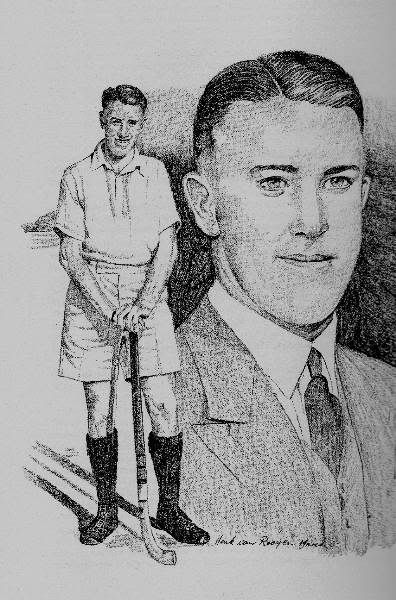 Most men battle to distinguish themselves in one sport. To do so in four takes an exceptional talent. Such a man was C. V. Irvine. His name will always be held in high esteem, for he was unquestionably one of the greatest all-round sportsmen Rhodesia has known.
At national level he excelled at tennis, hockey, squash and cricket while also playing provincial soccer. Although his greatest single achievement came on the hockey field as Springbok captain in 1948, it was as a front-rank tennis player that C. V. was best known.
He was five times Rhodesian singles champion from 1940 to 1950 and clearly would have gained more titles had not the War intervened and cut all championships between the years 1941 and 1945. In fact, during the 1940s Irvine lost only one national singles final — to Jimmy Mackay in 1946, though he turned the tables on his rival in the following year to regain his supremacy on the country's courts until 1951, when he lost to Francis Rink in the semifinals at Bulawayo.
Immediately after the War, when stationed in the SRAF at Bulawayo, Irvine became Matabeleland champion and played for Rhodesia against Tony Mottram's British tourists in 1947 and, two years later, against Geoff Brown and his Australians.
But the most thrilling match he ever played was against the great American Vic Seixas at Salisbury in 1950 and those who witnessed it will always remember the Rhodesian heroic fight against one of the world's top players.
The Americans, who had just completed a strenuous tour of South Africa, came to Rhodesia only after much persuasion, Mr. Eustace Fannin finally arranging their visit after direct approaches to the USLTA and SALTU had failed.
The visitors included Seixas, Art Larsen, Doris Hart and Shirley Fry — all of whom achieved fame on international courts. Seixas was Wimbledon champion in 1953, in the era of Sedgman and Drobny, and mixed doubles champion four times in a row from 1953 to 1956 — on the first three occasions as partner to Hart and on the last as partner to Fry. Hart also won the mixed title with Frank Sedgman in 1951 and 1952 and the women's doubles with Fry for three straight years (1951-53). Hart (1951) and Fry (1956) were also Wimbledon singles champions.
Rhodesia's team to oppose the mighty Americans was D. J. 'Podge' Morris, A. J. 'Jimmy' Mackay, C. V. Irvine, Basil Katz, Fat Davenport, Gwendy Love and Eve Sladden. Nearly 2 000 spectators crammed round the court at Salisbury Sports Club when, on a bright, sunny day, Irvine and Seixas walked out to play the mainsingles match. The crowd were soon in high spirits when Irvine surprisingly ran up a 5-2 lead in the opening set. But, serving strongly and racing up to the net, Seixas levelled at 5-5 before each held service until 10 games all was called by the umpire. Irvine held on tenaciously and clinched the set at 12-10 after eighty minutes of thrilling rallies.
It was champagne tennis and. sensing a home victory, the crowd were in a frenzy of excitement However. Seixas adjusted himself to local conditions and rattled off a series of devastating aces to clinch the next two sets and the match.
At that stage of his career Seixas had one weakness. Whenever he attacked on the backhand, his return went down the line and never across court — an early discovery that enabled the shrewd Irvine to win many points at net Subsequently Seixas perfected his backhand crosscourt and triumphed at Wimbledon.
It was a new standard for the Rhodesians to encounter. Recalls C. V. Irvine: "For us to play mixed doubles against Seixas and Hart was no different from playing two men. The two women in the visiting team gave a beautiful display of power tennis, but our own Eve Sladden played magnificently to take a set off Shirley Fry."
C. V. and R. Vincent were great rivals in Rhodesian tennis, with Vincent getting the better of the struggle until C. V. beat him in 1940 to take his first national singles crown. Irvine won this match 7-5, 6-4,3-6. 6-3 in the year that Miss Leila Franklin was a triple crown winner.
Tennis was a booming sport in the country and records show that in 1947 there were 47 clubs and 2 000 registered players — the days when Dunlop Maxply rackets cost seventy-six shillings and sixpence and the most expensive squash racket was thirty-five shillings. By 1948 there were 3 000 players in Rhodesia, growing to 4 401 in 1949 and reaching a peak of 5170 members affiliated to clubs in 1953.
The British team which visited Rhodesia in 1947 was: A. J. Mottram, A G. Roberts, Mrs. B. E Hilton, Miss J. Cannon and Col. D. H. Powell (manager). In 1949 the Australians visited South Africa and four of them played exhibition games in Rhodesia en route to Wimbledon. Geoff Brown, George Worthington, Thelma Long and Joyce Fitch were superior to the Rhodesians in all aspects and played at Bulawayo, Livingstone, Salisbury, Umtali and on the Copperbelt to stimulate further countrywide interest in tennis. Their only two official matches were at Salisbury and Bulawayo when colours were granted to the Rhodesians, led by 'Podge' Morris.
Cecil Victor Irvine was born on 16 August 1916 at Cape Town and came to Rhodesia at the age of two. He was educated at Salisbury's Prince Edward School where he was an all-round sportsman of distinction, a tradition he maintained on leaving school in 1934. He played first-league cricket and hockey for Old Hararians, tennis for Salisbury Sports Club and soccer for Alexandra Club. In the short time between 1936 and 1938 he won Mashonaland colours for all four sports, gaining his national cricket cap in 1936. It was to be his only match, for he had to choose between cricket and tennis as his summer sport and he chose tennis
Irvine played hockey for Rhodesia from 1937 to 1950, except for the War years, and captained the team from 1947-49. His proudest moment was in 1948 when he was chosen to captain South Africa in the only Test against the touring Oxford and Cambridge Swallows. The Springboks, who included a second Rhodesian, Harold Downey, the lightning-fast wing, won 3-2 at Johannesburg.
Although a South African Hockey Union team had gone to Kenya and Uganda in 1938 (Rhodesians in that team were S. Hatfield, B. B. Napier, HMM Mackenzie and W. H. S. Cary) no Springbok colours had been awarded Thus C.V. Irvine gained notable distinction when he led South Africa against the Swallows on 4 September 1948.
He was the first Rhodesian to captain a Springbok team in any sport and his players were the first to be awarded official Springbok colours for hockey Rhodesians Alf Sager was a reserve but did not gain colours, having to wait until 1951 for this honour.
The full Springbok team was: G. H. Surtees, G. P. Fenwick, S. F. de Wet R. M. Pearse, C. G. Mitchel, W. R. Endean (vice-captain), P. A. Dobson , J Pickerill C V. Irvine (captain), H. Downey and F. Hilder. The Swallows were led by R. M. Argyle.
When he retired from hockey, C. V. Irvine gained another notable achievement when he became a Springbok selector the first time a Rhodesian had been appointed a South African selector for any major sport.
Squash did not attract C.V. until comparatively late in his career in his career, but such was his natural ability at ball games that he won the Rhodesian title in 1947 and 1949. He lost his title in 1948 to his hockey team-mate, Harold Downey but turned the tables on his rival in 1949, only to lose again in the 1950 final to David Hodgson
A quiet, unassuming man whose manner was always exemplary on and off the court or field, C. V. Irvine was married in 1942 to Jean Lilian Fairlamb of Bulawayo. They returned to Salisbury from Bulawayo after the War and their two children, Hank and Barbara, were also to excel at tennis. Hank won two Rhodesian singles titles (1967 and 1972) and also played in the 1968 and 1969 Davis Cup teams. However, in the early 1970s Hank emigrated to America where he became a successful tennis coach.
C.V. has always taken a deep interest in coaching tennis and as the new decade of 1980 dawned he could still be seen daily instructing youngsters at the Postals Sports Club. Even during his playing years he would frequently give up his time to coach, and among those he helped was the big-serving Basil Katz of Bulawayo.
When C. V. made a belated first and only appearance at Wimbledon at the age of thirty-five he and Katz travelled together and were the first Rhodesians to compete in the championship on those hallowed courts. On the strange grass surface they were both eliminated in the first round.
But C. V. Irvine had already carved a niche as one of the finest all-round sportsmen Rhodesia has known and his prowess will continue to be a legend.
C. V. IRVINE'S CAREER
Tennis
Rhodesian championships - Singles: 1940, 1947,1948, 1949, 1950. No championships 1941-45. Men's doubles: 1939 (G. Hodder), 1940 (J. C. Crowther), 1949 and 1950 (both with A. J. Mackay). Mixed doubles: 1946 (L Holland), 1949 and 1950 (both with G. Love), 1952 (E. Sladden).
Internationals (for Rhodesia v. touring teams) — 1947 (Britain), 1949 (Australia), 1950 (America). Wimbledon - 1952.
Hockey
Rhodesia — 1937 to 1950 (except for War years). Captain 1947-49.
South Africa — 1948 (one Test, Captain v. U.K. Swallows).
Squash
Rhodesian championships — Singles: 1947 and 1949. Runner-up: 1948 and 1950.
Soccer
Provincial colours — Matabeleland (1937) and Mashonaland (1938).
- BYROM.
To view the Blog Home Page - Please Click Here.
(
Please visit our previous posts and archives)
Labels: Cecil Victor Irvine, cricket, hockey, soccer, Springbok, squash, tennis